Tuesday April 14th, 2020 :: 05:31 p.m. PDT
Advisory
DAILY UPDATE FOR APRIL 14, 2020
Good Evening, Petaluma –

We hope you were able to enjoy some fresh air and sun, either through your window or in your outdoor space, this lovely afternoon. Today we're sharing news of the new face covering Health Order, upcoming informational events, at-home activities for children, and Sonoma County resources. Please enjoy and share with your friends!

NEW FACE COVERING ORDER
The Sonoma County Health Officer has issued a new Health Order requiring that everyone wear facial coverings to stop the spread of the coronavirus (COVID-19) locally. The Order states people must wear a facial covering before they enter an indoor facility other than their home, any enclosed space, or an outdoor space where they cannot keep a distance of six feet away from others at all times. According to the County, all face coverings should:
Fit snugly but comfortably against the side of the face.
Be secured with ties or ear loops.
Include multiple layers of fabric.
Allow for breathing without restriction.
Be able to be laundered and machine dried without damage or change of shape.
CLICK HERE
to read the full Health Order.
For more information, please
CLICK HERE
to visit the County of Sonoma FAQ page.
Looking for some guidance and ideas on DIY face coverings?
CLICK HERE
for great information from the CDC.
Do you, or someone you love, have facial hair? If so, please reference this guide from the CDC on how to wear a face mask:
ttps://www.cdc.gov/niosh/npptl/pdfs/FacialHairWmask11282017-508.pdf
UPCOMING INFORMATIONAL EVENTS
County Town Hall
Please tune in tonight for the next Sonoma County Town Hall! County Supervisors and leaders from Health Services and Emergency management will update the community and answer questions.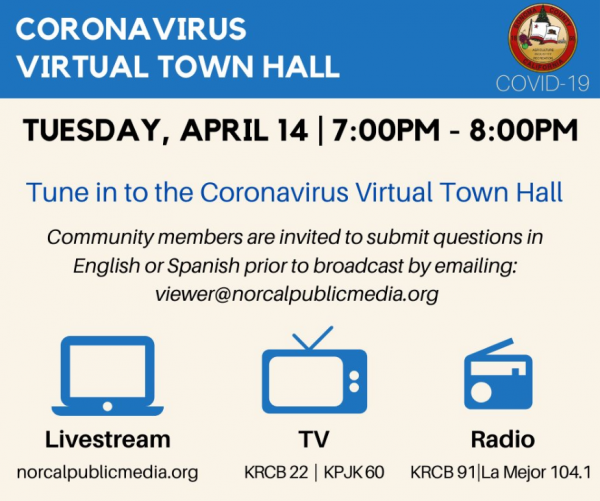 Public Health Officer Daily Updates
Tune in for daily coronavirus updates from Dr. Sundari Mase, Sonoma County Public Health Officer, Monday-Friday at 3:30pm via Facebook Live:
https://www.facebook.com/CountyofSonoma/live
Tele-Town Hall on Resources for Seniors
Join Assemblymember Marc Levine tomorrow, April 15, at 10am for a tele-town hall on resources for seniors during Shelter-in-Place. If you, or a loved one, need information or resources to support seniors impacted by the COVID-19 pandemic, please call in. Petaluma's own Elece Hempel, Executive Director of Petaluma People Services Center, will be a special guest!
When: Wednesday, April 15, 2020, at 10:00 AM
Call-in information: (605) 313-5111
Access code: 492901
Please email questions to
[email protected]
CELEBRATING CHILDREN THIS WEEK
Petaluma Parks and Recreation is introducing a special feature of our
#PetalumaPlaysAtHome
social media campaign this week – Week of the Young Child! This is an annual celebration sponsored by the National Association for the Education of Young Children (NAEYC).
For more information, please visit:
https://www.naeyc.org/events/woyc
This year, we're celebrating virtually!
Follow
@PetalumaParksandRec
on Facebook and Instagram for a specific themed celebration each day this week!
CLICK HERE
to check out today's activity – a homemade fruit roll-up recipe!
Be sure to check visit the new
Virtual Rec Center
for great activities for the whole family.
IS YOUR CHILD A MAKER?
The Sonoma County Office of Education has launched an awesome new program for young makers! For more information, please visit:
http://www.makereducator.org/cobuild19/
SONOMA COUNTY RESOURCES
The County of Sonoma has put together a Virtual Local Assistance Center with great resources for all members of our community. Click on the image below to check it out today!
https://socoemergency.org/home/recover/virtual-local-assistance-center/
HELP GET THE WORD OUT
Please share this information – online or by phone, of course – with anyone you know who might need help now or at any time during this crisis. To subscribe, click
here
.
Address/Location
City of Petaluma
11 English St
Petaluma, CA 94952
Contact
Emergency: 9-1-1
Non-emergencies: 707-781-1283
More Messages
Navigate & Discover